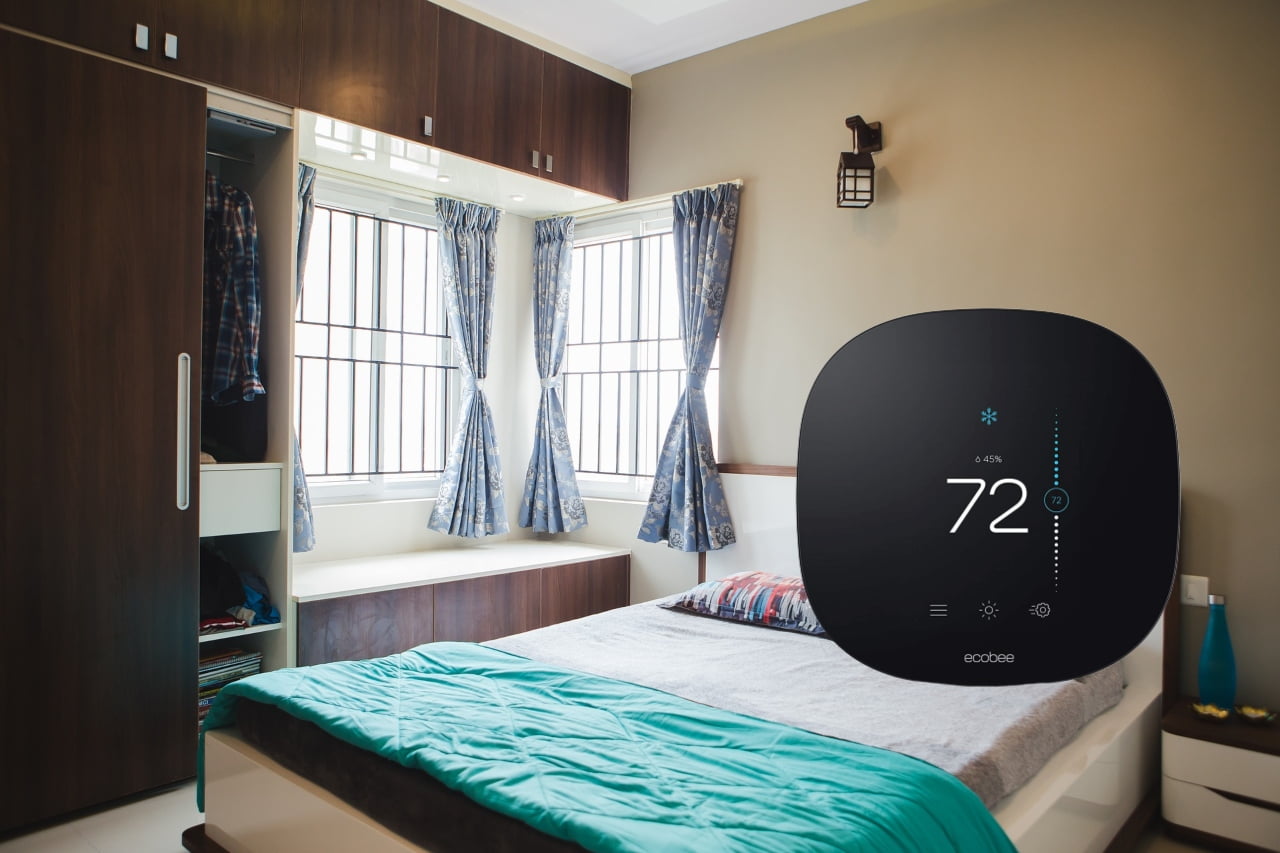 The Ecobee4 thermostat is one of the best thermostats you can get in the market right now. Ecobee4 is the improved version of Ecobee3 thermostat that comes with built-in Amazon Alexa. However, the retail price for both of them sometimes doesn't sit well with the budget shoppers. Therefore, if you have a limited budget for a thermostat and looking for a cheap smart thermostat, then you can think of Ecobee3 Lite thermostat.
The Ecobee3 Lite may not have all the features found in the premium Ecobee3. However, it does an excellent job of regulating temperatures and is compatible with Amazon Alexa, Apple's Homekit, Samsung's Smartthings, and IFTTT.
The Ecobee3 Lite bridges the gap between the normal programmable thermostat starting from $100 and the smart thermostats which go for over $200. In other words, it is a semi-smart thermostat.
So, why consider buying Ecobee3 Lite? Well, this review will give you an insight into what you should expect from this thermostat.
#Ecobee3 Lite thermostat
Key Features
Save money – using Ecobee3 lite, homeowners can save up to 23% annually on their heating and cooling costs. In addition, Ecobee pays for itself in under 2 years (Learn more on ecobee.com/savings)
Compatible with room sensor – place sensors in the rooms which are most important to you. Sensors measure both temperature and occupancy, send a signal to your Ecobee3 lite thermostat to automatically switch to the correct mode for comfort when you're at home, or for savings when away. 2 packs sold separately.
DIY Installation – it will take more/less 30 minutes to install following the installation guide and an in-app step-by-step walkthrough. All you need comes in a box together with a Power Extender Kit for homes with common C-wire.
Power consumption – less than 3.5 VA.
Remote control – Ecobee3 lite thermostat can be controlled from anywhere using iOS or Android devices. The app is available in Google Play and App Store.
Compatibility – electric, gas, oil, Heat Pump (4H/2C), dual fuel, Conventional (2H/2C).
Smart home compatibility – Ecobee3 lite compatible with most of the modern home automation systems like Amazon Alexa, Samsung SmartThings, IFTTT, and the like. But not support Google Assistant.
back to menu ↑
Design and Interface
Ecobee3 Lite looks similar to the Ecobee3 in almost every aspect. The front section is round and colored in glossy black while the back is white. The sides taper inwards to give the thermostat a floating look and feel. It also has a white base that you can use to accentuate your décor.
The screen is rectangular and 3.5 inch in size. There are no buttons on this thermostat so you can expect to use its touch functionality to change the temperature and view the weather and humidity. What makes this thermostat worthwhile is its responsive touchscreen and the wealth of information it offers.
The home screen on the Ecobee3 Lite displays the current temperature and humidity in your house as well as the current state of the system –Off, Heat, Cool. At the bottom section of the home screen, there are buttons for settings and viewing the weather forecast. While the screen seems to be of a high resolution, Ecobee3 Lite still features Ecobee's signature mostly black and white display on digital Ecobee products.
When on idle, the screen displays the weather and current temperature, but when you move closer to it, the motion sensors brings up the temperature controls and icons for you to interact with your AC.
back to menu ↑
Performance
Ecobee3 Lite comes with remote sensors that make it easier to monitor temperatures of multiple zones. You can also measure indoor and outdoor temperatures at the same time.
Using Ecobee 3 Lite is easy. Just slide your finger up or down on the left side of the thermostat to adjust the temperature. However, you will notice that some even numbers have been left out.
This thermostat is accurate, responsive, and highly functional. It has a motion sensor that allows it to turn on when you walk close by. However, it lacks the geofencing feature meaning that it depends on apps such as the Apple HomeKit to know if you are home or away. You can also achieve this using IFTTT and wink.
Settings are easily accessible on the thermostat itself, but you can also use the Ecobee3 app to make configurations remotely, no matter where you are.
back to menu ↑
Integration with Smart Home Devices
Ecobee3 Lite supports integration with Amazon Alexa through Amazon Echo, Echo Dot, or Tap, Samsung SmartThings, Apple Homekit, IFTTT, and Wink. However, this thermostat doesn't support Google Assistant, which is definitely the best home assistant in the market right now. This lack of support can be attributed to the competition with Google Nest thermostat, which is a child company of Google. The Ecobee4 thermostat has even gone to the extent of embedding Amazon Alexa within the thermostat.
Here is a trick to make Ecobee3 work with Google Assistant:
back to menu ↑
Pros & Cons
Pros
Works with Amazon Alexa, Apple HomeKit, Samsung Smartthings, and IFTTT, among others.
Works with sensors. Although you will have to buy them separately from here.
Beautiful and attractive interface
Easy to install and configure
Good value for money
Cons
Doesn't work with Google Assistant, which is the best home assistant in the market
Lacks geofencing
back to menu ↑
Installation & Setup
Follow these instructions to install and set up Ecobee3 Lite:
Switch off the main power to the thermostat at the circuit breaker
Remove the old thermostat's faceplate
Observe the existing wiring. Take a picture or label each wire on the connection.
Disconnect the baseplate of the old thermostat and remove it.
Place the new baseplate of the Ecobee3 Lite and pass the wires through
Use the image and labels to connect the wires appropriately
Screw the baseplate in place and attach the faceplate
Turn the HVAC power back on
Once put in place, download the Ecobee Android or iOS app to get installation and setup guides. Unlike the nest thermostats which uses a battery, the Ecobee needs a C-Wire. If your heating and cooling system doesn't have a C wire, you can either pull on from your furnace or use the Ecobee Power Extender Kit.
Once your Ecobee3 Lite is up and running, use your Android or iOS device to set up a Wi-Fi password and name the thermostat. You could also use a small virtual keypad on the Ecobee3 Lite screen but this could be cumbersome.
back to menu ↑
Final Thought
Ecobee3 Lite is undoubtedly the most appealing 7-day programmable Wi-Fi thermostat that not only looks great but offers exceptional performance. It is priced fairly and supports a wide range of smart home devices. It might not come with all the features of the Ecobee3, but it delivers great performance, is energy-saving, and comes at a good price, which makes it smarter than the Honeywell Lyric T5 Plus.