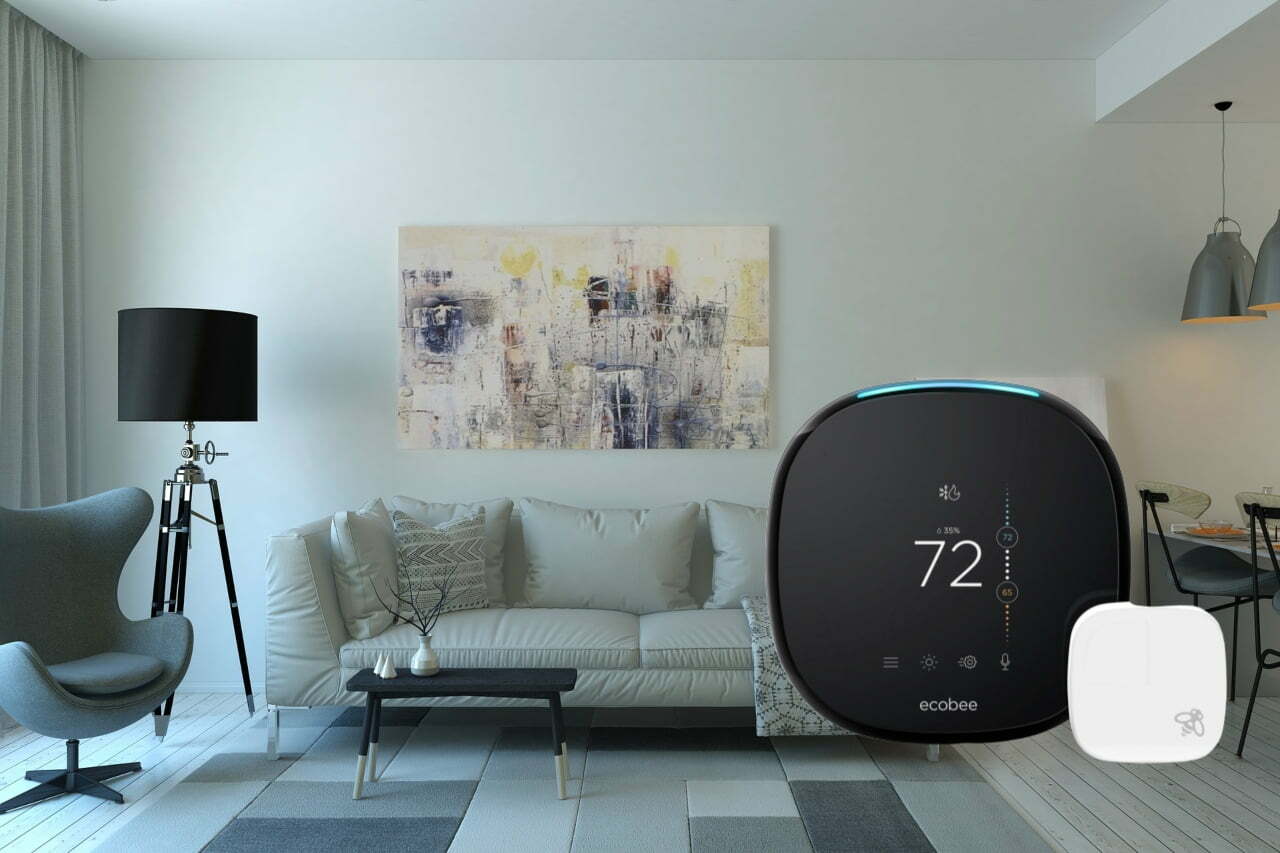 Maintaining the indoor environment of your home is one of the most important things that you should do if you want to live a comfortable life. Therefore, you will need a thermostat to control the indoor environment of your home as the temperature fluctuates with the change of days and seasons. Thus, the Ecobee4 smart thermostat is one of the best that you can get. It's the advance and improved version of its predecessor Ecobee 3.
With its intelligent temperature control capability and enhanced sensing, the Ecobee4 thermostat will help you to cut your energy costs and improve your quality of life. It may not be as eye-catching as the Nest Learning Thermostats, but it will control your indoor environment precisely just the way you like it without fluctuating.
Let's start our Ecobee4 review and try to find out what it has to offer,
#Ecobee4 thermostat
Key Features
Save Money – Using Ecobee4 can save up to 23% of heating and cooling costs annually.
Room Sensors – Place them in your most important room and keep the balanced temperature throughout your home. Sensors that measure both occupancy and temperature. And then send signal your Ecobee Smart Thermostat to automatically switch to the correct mode for comfort when you're at home or for saving when away. It includes one room sensor but available to buy separately.
Easy Installation – It takes headly 30 minutes to set up and to run with the help of easy to understand step-by-step installation guide. It has everything in the box, including Power Extender Kit but no C-wire.
Compatibility – Ecobee4 is compatible with most of the HVAC systems like electric, gas, oil, heat pump (4H/2C), duel-fuel, and the like.
Remote Control – You can adjust Ecobee4 remotely from anywhere using Android or IOS devices. You can download the Ecobee mobile app from Google Play or App Store.
Built-In Alexa – The first smart thermostat on the market that comes with the built-in Amazon Alexa, which ensures hands-free control.
Design and Appearance
The Ecobee4 has a sleek and modern look, but it won't stay out of place in more traditional homes. It's an Android and iOS compatible smart thermostat and integrated with a color LCD touch display. The apps and the slick touchscreen interface of this thermostat work identically, which is great. Also, there is a web dashboard to dive into advanced settings and system monitoring.
Ecobee4 thermostat features
The Ecobee4 Smart Thermostat comes with some impressive features that set it apart from many other thermostats available in the market. Here, we will explain a few of them, which may tempt you to love it.
Most other thermostats read the temperature of the area where the thermostat has been installed (usually in the hallway), and this makes other areas uncomfortable, but that is not the case with Ecobee4 thermostat. The Ecobee4 smart thermostat comes with a room sensor that will help you manage the hot and cold spots in your home effectively.
When you place the sensors in the rooms that you use often, they will be able to detect occupancy and regulate the temperature in those rooms. However, you only get one Ecobee sensor when you purchase this thermostat, but you can buy more separately.
Features Built-in Amazon Alexa for effective control
This Ecobee4 review would not be complete without mentioning this incredible feature. The Ecobee4 thermostat is the first smart thermostat that comes with Room Sensor and built-in Amazon Alexa. This feature will allow you to perform all the activities that are powered by Alexa. So, you don't have to buy Alexa separately like other Alexa supported smart thermostats. It has saved your money here, right!
When you speak to the thermostat, the device gets what you are saying, and it will blink with a blue light as it executes your request. You can give commands even when you're far away from the device, and this hands-free control will ensure you don't have to find out your smartphone or go to the device's location to make any changes. Isn't that impressive?
Great compatibility with home HVAC systems
Ecobee4 works with most of the HVAC system. So, you can go with it without any hesitation to keep control over your indoor temperature. However, if you still have any confusion, you can check the compatibility of your home HVAC system with Ecobee4 by logging on to their website. Installation for this thermostat is fairly easy, and it will take more and less 30 minutes to set it up and to run.
If you are using Ecobee4 thermostat for the first time, you won't need to worry because there are explanatory videos that will guide you on how to handle it. You will need a C-wire to connect the device, but if you don't have one, the package includes a power extension kit that you can use for as an alternative of C-wire.
Pros & Cons
Pros
Easy to install
Hands-free control with built-in Amazon Alexa
Highly compatible and reliable
Great design
Built to last
Wireless room sensors
Cons
Lacks the Echo Spatial Perception (ESP) feature that prevents other devices from responding when you give a voice command
Final Thought
Finally, we can say Ecobee4 is one of the best thermostats that you can think to buy for controlling your indoor temperature. Also, in our Ecobee4 review, we have highlighted some of the most essential things that you should know. Therefore, If you are looking for a great thermostat that comes with remote sensors and works really well, then why not pick this thermostat?
FAQ
01. How many sensors does Ecobee4 have?
The Ecobee4 comes with a room sensor. You can buy more separately.
02. How to install Ecobee4?
Do the following to install the Ecobee4;
• Power off your HVAC system and remove the old thermostat backplate.
• Attach the mounting plate on the surface.
• Thread the wires through the plate.
• If you do not have C-Wire, use the power extension kit provided.
• Program the thermostat according to your choice.
03. Can Ecobee4 control multiple zones?
Yes, it can. With extra Ecobee sensors, you can control multiple zones.
04. How to connect Ecobee4 to Wi-Fi?
Here is how you can connect the Ecobee4 to a Wi-Fi network.
• Power up your router to broadcast your network or broadcast your cellular network from your iPhone.
• From the main menu of the thermostat, navigate to WI-FI. MAIN MENU > SETTINGS > WI-FI.
• Select the network that you are about to connect to and enter the password.
05. How to update Ecobee4?
Ecobee devices automatically update themselves to the latest firmware version as long as they are connected to a Wi-Fi network.
06. How to program Ecobee4?
The programming process for Ecobee4 is quite easy. Here is how you can do it,
• From the main menu, navigate to Comfort Settings.
• You will find 3 different options – Home, Sleep & Away.
• Select your preferred cool and warm temperatures for each of these settings.
07. How to reboot Ecobee4?
• Press the main button on the home screen and hold it for about 5 seconds.
• You will hear a voice prompt that says "Restart device".
• Press the main button after the voice prompt to restart the thermostat.
08. How to reset Ecobee4?
• Press the main button on the home screen and hold it for about 5 seconds.
• Wait for a voice prompt that says "Reset to factory settings,"
• Press the main button at this moment to reset the device.
09. How to add Ecobee to HomeKit?
• From the Ecobee app, press the gear icon at the top left corner.
• Choose "Manage HomeKit" from the menu.
• From the options, select the thermostat device to add.
• A HomeKit code will appear on the device's screen.
• Scan the code with your iPhone camera or enter the code manually.
10. How to schedule Ecobee4?
• Navigate to the device's main menu
• Customize your schedule by selecting a day of the week and add your schedule.
• Do the same to the other days of the week and hit
11. How to connect Ecobee to Alexa?
From the Ecobee app, enter your Amazon account to enable Alexa.
12. How to use Ecobee sensors?
• Place the sensors in your preferred rooms.
• With your schedule set, go to the device's main menu and navigate to
• Enable the Smart Home/away feature.
13. How to lock Ecobee4?
• Tap the main button and scroll to Settings.
• Click Access Control and then Enable Security Code.
• Enter your 4-digit pin and save.